Shoot Your Shot in EVR's First-Ever All-Star Competition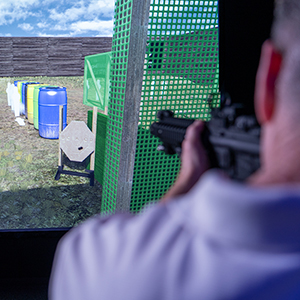 We are so excited that Cleveland, Ohio, will be the backdrop for this year's NBA All-Star Weekend. To get the festivities going, we're hosting an EVR All-Star 2-Gun Competition that will give shooters a chance to show what they are made of!
Are you up for the challenge?
EVR All-Star 2-Gun Competition
Please make a reservation anytime between February 15th and 20th, 2022, to be eligible to compete in our 2-gun competition. Competitors will start with a handgun and transition to an AR rifle while competing in our Close Quarters Combat (CQC) sequence.
In these life-like action-packed scenes, shooters will have the chance to turn their skills into cash by working their way through a series of challenges that will test more than their marksmanship skills. For example, participants will have to clear the drug dealer's headquarters room by room by breaching doors, windows and negotiating debris while making quick decisions in shoot-or-don't-shoot situations. This competition is about testing your reflexes, challenging your instincts, and staying calm under pressure!
What will the EVR All-Star winner walk away with? Along with being dubbed the first-ever All-Star Champion, they will also be awarded 60% of the growing prize pool throughout the competition. Of course, the more shooters who shoot their shot, the bigger the prize pool will get!
Sitting on your couch and watching the All-Star Weekend festivities is fun, especially since there's not much else to do in February in Cleveland. So, why not shoot your shot in an exciting competition and have the chance to win some cash?
Book your reservation at our Avon Lake or Medina, Ohio locations!