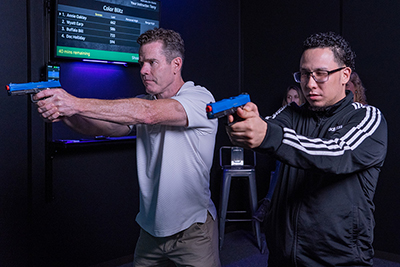 Join us anytime on Wednesdays for a 90-minute session for only $100 (a $40 savings!) at our Medina and Avon Lake locations. The price includes up to 4 people!
Get a quick training session from our excellent instructors, and then spend the majority of your session having tons of fun! Each session will be structured to help you and your group make the most of your time:
Shooting fundamentals review
Test your skills with interactive drills and exercises
Competitions
Fun shoots like prairie dog hunt, pirates, and duck hunt!
Form teams and battle it out
When the dust settles at the end of 90 mins, and everyone is feeling their best, a clear "hump-day top shot" winner will be determined and walk away with bragging rights until your next session!
What are you waiting for? Don't let the mid-week blues get the best of you. Instead, book a reservation for Operation: Hump Day!