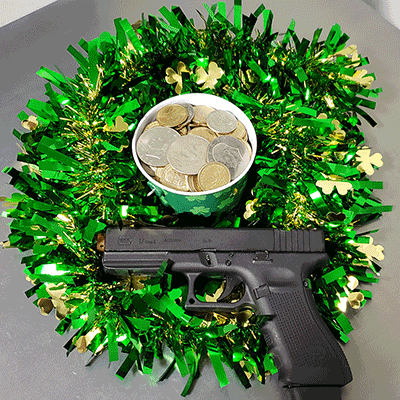 Feeling the luck of the Irish? When it comes to finding a family-friendly St. Patrick's Day event, it can sometimes be a challenge, but not this year! Shoot for the gold in our first-ever St. Patrick's Day Shooting Competition.
And if our St. Patrick's Day festivities turn out to be anything like our Valentine's Day competition, you're going to need all the luck you can get!
St. Patrick's Day Shooting Competition
Join us from March 12th through March 17th for a family-friendly shooting competition. Enjoy the chance to win the Pot of Gold at the end of the EVR rainbow and do something fun that gets your family out of the house!
Grand Prize: $100 in Susan B. Anthony and dollar coins
First Place: $50 EVR gift card
Second Place: $25 EVR gift card

Our family-friendly event is designed to help you create new memories while also having the chance to explore a completely new skillset. Ideal for children 12 and up, this competition is designed to help teach the basics of gun handling while also giving each member of your family the chance to test their skills in a virtual Steel Challenge course. You might be surprised to see who is the lucky shot in your family!
Each group of four gets:
Personalized and professional instruction
Gun safety briefing
Shooting fundamentals review designed to help new and experienced shooters
60 minutes of uninterrupted shooting time
Steel Challenge course competition
Flat Family Rate: $110 for up to 4 people

Reservations are required! Limited availability.